Ultimate Party Band Hertfordshire iCandy - Biography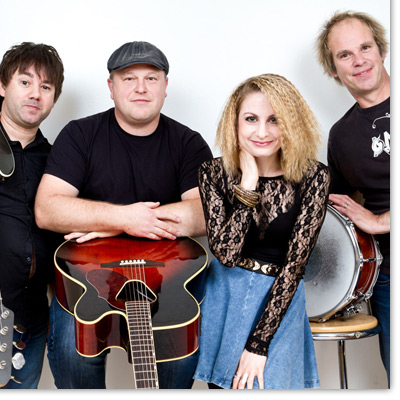 Hello from iCandy! We're the top function & wedding band Hertfordshire has to offer (so we're told). We have been established as a band for over 10 years now, so we've played a gig or two! We're all highly trained, super professional, multi-talented band members who love what we do. You can read more about us below!

iCandy play highly polished live sets covering a huge range of rock and pop hits from the 50s, 60s, 70s, 80s, 90s, 2000s right up to the 2010s charts! From the likes of The Beatles, Rolling Stones, Queen, Michael Jackson, The Killers, Pharrell, David Guetta, Rhianna and Kings of Leon - to name but a few! We also have an acoustic line-up, in which we play from a similar repertoire but on acoustic instruments in a 'live lounge' style - ideal for background music.

Our typical gigs are weddings, corporate events and private functions. Some of the people, places and events we have perfomed for/at include: IKEA, Southampton University, SAS, RAF, Abbey National, Watford Colleseum, The Dorchester Hotel, The Roadhouse, Chilworth Manor and Cambridge University. Unfortunately we rarely have time to play publicly, but we do play the occasional public show - keep your eyes peeled!

iCandy use a 2600 watt full range PA system. This equipment is suitable for ALL audience sizes from less than 100 guests up to a large venue with 1000 guest capacity with a full and balanced sound. We also provide a complete professional lighting display consisting of high quality LED stage & dance floor lighting with built-in sound-to-light controllers, 3 x Prolight LED Colour Burst Up Lighters & 1 x LED Flower to light the band and dance floor.

iCandy dress in smart casual for most occasions. We're always well presented and we're stylish at the same time! For corporate and black tie events we will dress more formally.

Band Member Bios



Hannah - Lead vocals

I count myself very lucky having a job that I love - being lead singer of iCandy is tonnes of fun and a job that I put my heart and soul into. As the band's front-person, I also communicate/ banter with the crowd, which is all part of creating and keeping the party vibe going throughout the night! As a singer, I have had years of vocal training, covering different styles of singing including 'rock/pop', 'musical theatre' and 'classical'. I've been a member of iCandy for the last 8 years and I am now also the band's spokesperson, keeping in touch with our clients to discuss the music arrangements for their wedding day or other private event.
Al - Lead Guitar / lead vocals and backing vocals

I'm a creative guitarist, originally trained in Classical & Jazz – alongside this my true roots belong to rock! Being a devoted player for 20 years, I have played more than 2000 gigs over the last 10 years throughout the UK. I really enjoy getting into vocal harmonies which is something iCandy are really good at! In my spare time, I write and compose my own songs in my home studio. When I'm not gigging with iCandy I teach lead guitar and is a member of The Registry of Guitar Tutors.
Rob - Bass / lead vocals and backing vocals

Hello! I'm the bass player in iCandy. I've been playing bass for iCandy for around 15 years now, and known both Al and Gareth since our teens when we all did Battle of the Bands! I sing lead and backing vocals for iCandy and have been told I have a vocal sound similar to a mash-up of Sting & Noel Gallagher! One of iCandy's great selling points is the big vocal sound we achieve through Hannah's lead vocals along with the BVs and harmonies that myself and Al are able to provide. As well as being the bass player in iCandy, I write and record my own songs and have played in various originals bands in the top live music venues in London.
Gareth - Drums

I'm a passionate drummer and enjoy being able to play for any occasion. I am a founding member of iCandy, having formed the band along with Al over 15 years ago. This band is great to play with as we play so many different styles of music from the Foo Fighters to David Guetta - so it gives me the opportunity to experiment with so many different drumming styles. My experience spans over 20 years, drumming with both covers and originals bands, plus recording songs and shooting music videos. I teach drums when I'm not working with iCandy.