Band For Hire Hertfordshire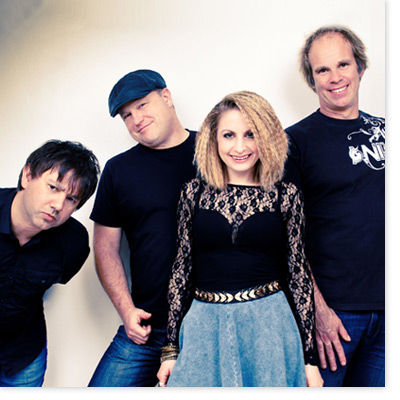 Hello and welcome to Hertfordshire wedding band & Hertfordshire function band iCandy's website!
Here you can find out what we do, check when we are available to perform - with the handy date checker, follow us on the road via our blog and most importantly, find out why we are the best choice of entertainment for your next event, whether it's a private party, corporate event or a wedding!
The four of us here at iCandy promise to provide a thorough entertainment experience for all our clients. Every booking we play at is packed full of fun, both on and off stage and as we are a working Herfordshire function band, we're playing regularly throughout the year to achieve excellent musical performances, every time. We do our very best to please everyone in the room, as our repertoire stretches from way back in the 1950's, right up to this year's chart hits.
Before the event and off-stage we are also very professional. We communicate clearly and with respect for your plans, to make sure your event entertainment is the best it possibly can be throughout the whole process - from the early stages, to the day of your event, right up to the end of the night, giving you a great show of live music!
We're also EXCLUSIVE to the Alive Network Entertainment Agency, so you can't find us anywhere else!
Now, please feel free to surf our site and find out more! See our Media page for our audio samples and check the FAQs to answer frequently asked questions.
Thank you for visiting!
- iC x
58 customer reviews
""Dear iCandy! We just wanted to say a big thank you to you all for your fabulous performance at our wedding at Hunton Park on June 27th. You really made our evening extra special, and everybody comm..."
"
iCandy were simply great. Great choice of songs ranging across the decades which meant there was something for everyone to sing along and dance to. Really professional group and kept the flow going at...
- Glenn J
"
"
Just another big thank you for such a wonderful performance by you and iCandy last Saturday at Sarah & Alastair's wedding. Everyone thought your music was simply fantastic and you really made the even...
- Clive B
"
"
We are very happy with the ease of booking ICandy. They were very professional and excellent musicians but most importantly their performance was fantastic and kept the party rocking to the end.
- Graham J
"
"
We just wanted to say a huge thank you to iCandy for the music and entertainment you provided for us and our guests last night. It was a fantastic evening and everyone thoroughly enjoyed themselves - ...
- Laura a
"
"
iCandy played this weekend for our daughters 21st. What a fantastic band - great sound and 2 very lively sessions that had everyone on the dance floor and buzzing for more. What a great night - tha...
- David B
"